"Fundación Milton Moronta" (Fundamil)
We are pleased to be able to cooperate with the foundation "Fundación Milton Moronta (Fundamil)" in Puerto Plata. The foundation under the direction of Dr. Milton Moronta would like to support the following concepts:
Improvement of physical and mental health
comprehensive education attainable for all people of the Dominican Republic
environmental protection
The Foundation is actively supported by various actors. The following chart shows the supporters involved with Dominican Health e.V..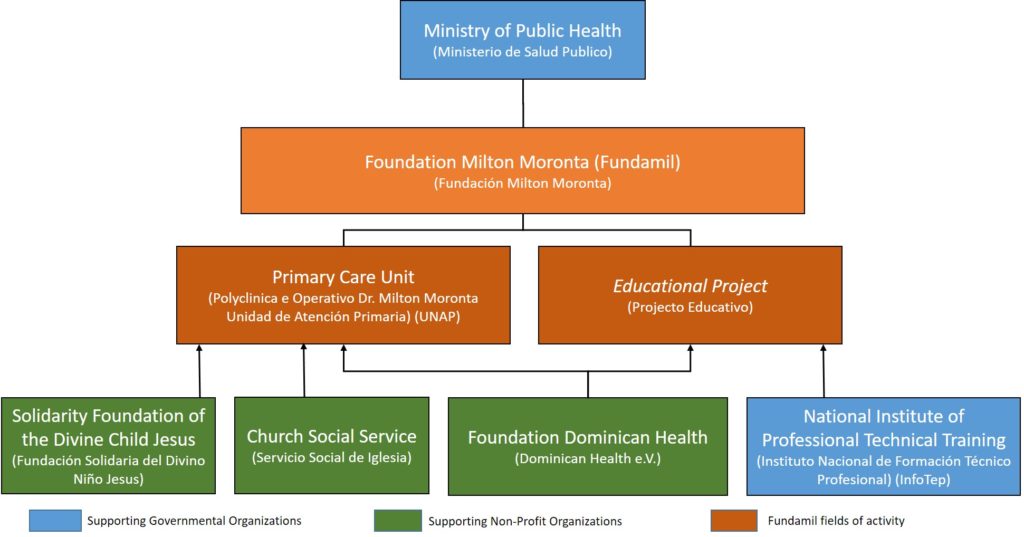 The educational project at the Fundacion Milton Moronta, Projecto Educativo
The courses are offered in collaboration with the Instituto Nacional de Formación Técnico Profesional (InfoTep). The Institute is responsible for the design of the contents, the quality management and the issuing of the certificates. The programmes are essentially intended for young people who want to improve their chances on the labour market. As the youth unemployment rate is very high, these courses are an introduction to better application chances or a possibility to perform more demanding professional activities. The courses are free of charge for the participants. The following courses have been held – in some cases several times already:
Title (hours)
Pharmacy assistant [Auxilliar de Pharmacia] (260)
Pharmaceutical Representative [Representative Farmacéutico] (260)
Assistant in automotive mechanics [Auxilliar de Mechanica Automotriz](230)
Hairdresser assistant [Auxilliar de Peluqueria] (270)
Accounting assistant [Auxilliar de Contabilidad] (317)
Customer Care [Servicio al Cliente] (30)
School Secretary [Secretaria Educativa] (416)
Automation [Automaquillaje] (20)
English Basic Course [Engles Basico] (70)
Human Resources [Relaciones Humanes] (8)
Motivation and teamwork [Motivation y Trabaja en Equipo] (8)